Who doesn't love hamsters? These tiny creatures are overloaded with cuteness, and resisting them is nearly impossible. Owning a hamster is a lovely experience. Holding these fur balls in your hands and looking at those drooling eyes in another type of happiness.
If you are a first-time hamster owner, you can make some mistakes due to excitement and less experience. One of the biggest mistakes of new owners is choosing the wrong cage. By the wrong cage, we mean a cage that doesn't align with the needs of your little furry friend. 
Ever heard about red-eyed monsters? Yes, this is what we call ferocious hamsters. So, why do these cute-looking fur balls turn into beasts? It is because of their environment. Although they behave very well as pets, we should not forget that they belong to the rodent family. These animals lead a very active life in the wild. 
When you put them in places where they can't move freely and fulfill their physical needs, this leads to serious health problems and increases frustration in them. High levels of frustration result in aggressive behavior of your hamster. 
Hence, choosing the cage that caters to all the needs of your hamster adequately is very important. Due to less knowledge and experience, this purchase can be a big challenge for new owners. 
Considering that, we did all the homework for you and came up with this great 5 best hamster cages list:
List Of 5 Best Hamster Cages
#1 Living World Deluxe Habitat-Best Overall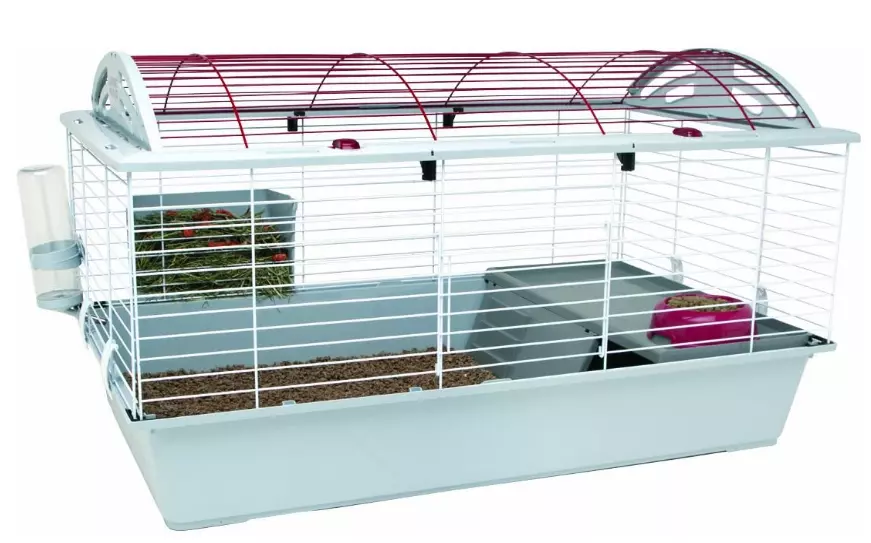 Living World Deluxe is on the top of our today's list for so many reasons. It might not look as fancy as many other options, but it is certainly more practical than most of them. 
Starting with the security features. The wiring of the cage is thin enough to keep your hamster from escaping. It is an essential security feature as hamsters are masters of escaping. Hence, after buying this cage, you won't get any surprises like finding your hamster cage empty.
This cage can be divided into two separate parts. 
The upper wireframe not only enhances the aesthetics of the cage but also provides ultimate protection and maximum ventilation. The color scheme of this wireframe is artistic yet straightforward. The arching red top and complimenting white wires on the sides is a sight itself. 
On the other hand, the plastic base is perfect for your furry friend's favorite activity-burrowing. The plastic frame is quite deep, ideal for nice bedding, and gives plenty of space to your furball.
The plastic base and wireframe make this cage very durable and relatively easy to carry.
There are two floors of this cage which provides a balance of resting and playing areas for your hamster. Underneath the ramp, you will see that there is a cozy hideout for your hamster to give it all the space it needs to rest. Above this hideout lies a decent balcony which your hamster can use for playing and feeding purposes. The patio also offers an excellent area to place a hamster wheel.
In addition, the water bottle is placed on the outside of the cage. It provides a maximum area for your hamster to move freely. Another thing worth mentioning is that this water is drip and tip free. These features will not only ensure minimum wastage but will also reduce the cleaning work for you.
Last but not least, this cage is offered at a very affordable price point as compared to other options. Therefore, you won't have to think much before buying this hamster cage. 
Pros
Lightweight
Easy to clean
Plenty of space
Affordable
Safe 
Cons
Don't come with many accessories.
#2 Savic Metro Hamster Cage-Best For Accessories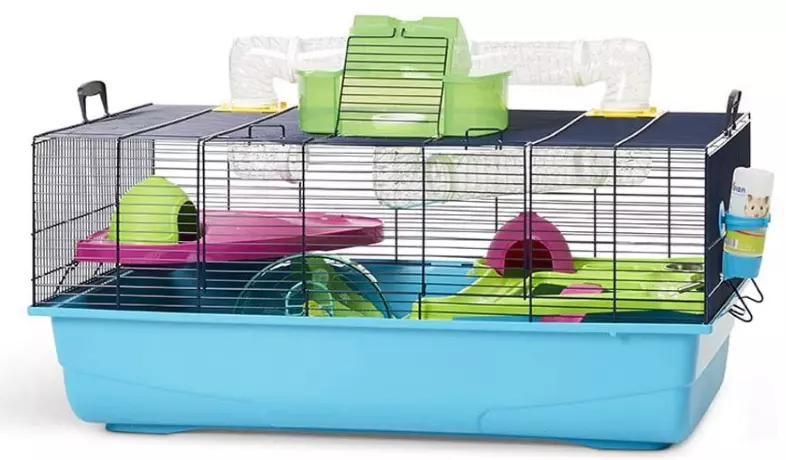 The second cage in this 5 best hamster cages list is Savic Metro Hamster Cage. Price-wise, this cage is slightly on the upper side, but it's worth every cent. 
Who doesn't love amusement parks? This cage is literally an amusement park designed for hamsters. Just like you, your hamster will also appreciate having fun, and this cage has plenty of stuff for it. Savic Metro is a large 3 feet long and 2 feet wide cage loaded with tons of accessories. 
When it comes to hamster cages, the best rule of thumb is "The bigger, the better." Hamsters love burrowing, and the depth of the base of this cage is ideal for it too. Two hideouts, a wheel, and a tunnel come with this cage. Believe us; your four-legged furball can't wish for more. 
If you feel like gifting some more accessories to your beloved pet, you won't have to worry about space. 
You can remove the wireframe easily by unclipping two clips that hold the base and frame together. This cage offers two doors to take your hamster out and pet them. 
All in all, this cage is an ideal option if you want to give a luxury home to your hamster as a welcome gift. 
Pros
Tons of accessories
Deep base
Easy to clean
It can accommodate two hamsters 
Cons
#3 Aivituvin Upgraded Tier 3 Hamster Cage-Best For Large Size Hamsters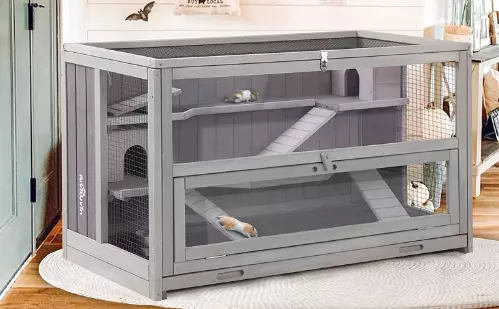 Are you looking for an ideal home for your big-size hamster? Or have you bought a pair of hamsters? If either is the case, then the next cage in this 5 best hamster cages list is perfect for you. 
Aivituvin Upgraded Tier 3 Cage is not less than a mansion for the hamsters. This extra-large size hamster cage offers 700 square inches of playing area for your hamster. In case you have a pair of hamsters, then no other cage can serve better as their home.
Not only will this cage be a perfect house for your furry friend, but it will also add to the aesthetics of your house. If you are a person who pays attention to looks, then this cage is perfect for you. 
If we talk about the safety of your hamster, this cage offers wooden floors. These will not only last longer than ordinary plastic or wiring floors, but they will also provide better grip.
The base is deep enough to provide cozy bedding for your hamster. Moreover, it also comes with tons of high-quality accessories. Some worth mentioning are a leak-proof plastic tray for food, a drip-proof plastic bottle for water, a seesaw, and a hideout. 
Attention to detail of the manufacturer is worth appreciating. A large front door is added for you to place food easily and also for cleaning purposes. Moreover, the wire top of the cage ensures maximum ventilation. 
Pros
700 square inches of the play area
Plenty of accessories
High-quality non Toxic wooden floors
Beautiful design
Properly ventilated
Cons
Not lightweight
The water bottle is not included
#4 Little Friends Mayfair Gerbilarium Cage-Best Non-Chewable Cage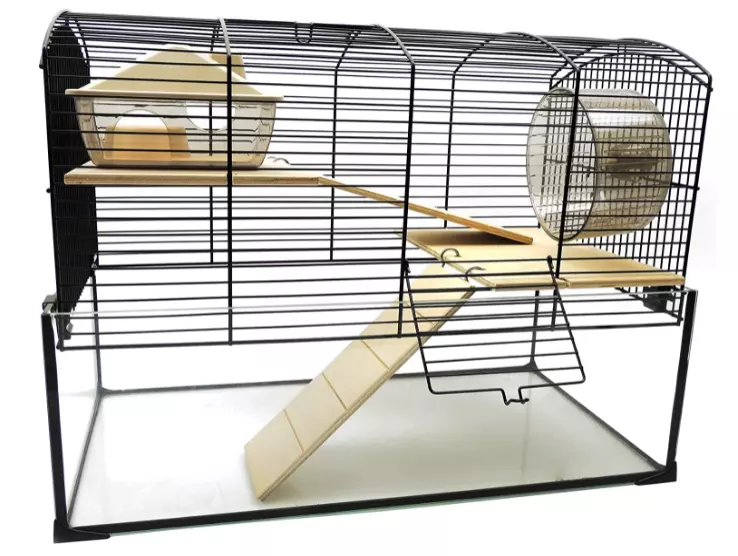 The next cage on this 5 best hamster cages list is also very simple yet elegant and practical. If you think that your hamster tends to chew the plastic, then this is the best solution. 
Unlike most cages available on the market, this cage comes with a glass base instead of plastic. Clever hamsters who love escaping can easily chew the plastic and escape the cage. In the case of this cage, that won't be a thing to worry about.
The design of this cage is quite simple; hence cleaning it won't be an issue either. 
The wires of the cage are also explicitly designed to fail all the escaping plans of your hamster. The cage comes with an exercise wheel and a hideout, and there's plenty of more space to add extra accessories.
In a nutshell, this cage is perfect for smaller-sized hamsters.
Pros
Easy to clean
Best for smaller sized hamsters
High-quality build
Wooden ramps
Cons
Expensive
Not ideal for larger sized hamsters
#5 Pawhut 5 Tiers Hamster Cage-Best Multi-level Cage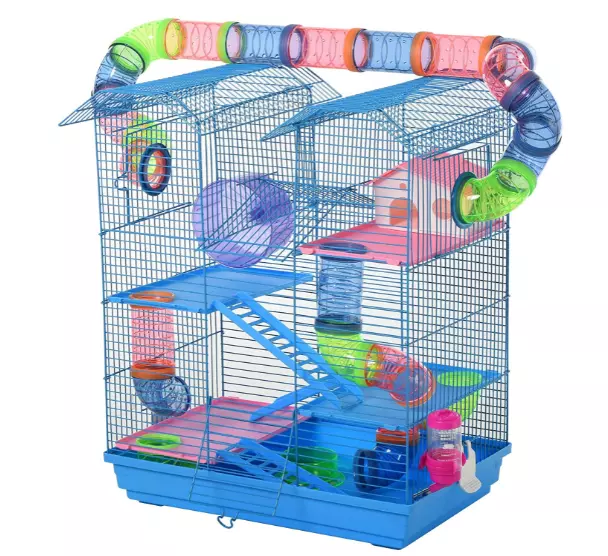 Pawhut 5 Tier hamster cage is specifically designed to keep your hamster healthy and happy. This is a 5 story hamster cage loaded with plenty of accessories. The most prominent feature of this hamster cage is its 5 stories, but it also offers much more. 
At every level, there are unique accessories placed to give your hamster an entertaining and cozy environment. The inner structure of this cage is made up of sturdy plastic to provide grip to your beloved furball. The exterior design of this cage boasts thin wiring to keep your precious one from escaping.
The tube system of this cage is simply outstanding. It will provide your hamster with a near-to-natural habitat. Your hamster will be able to move freely and enjoy well.
A detachable plastic tray is perfect for quick cleaning and approaching the interior of the clitter cage.  
You and your hamster will also love the color scheme of this cage. Although it seems complicated, assembling this cage isn't complex at all. You won't even need any tools to build this cage.
The best part is that this cage is one of the most economical cages you will find in the market. What else can you wish for from a hamster cage?
Pros
Plenty of playing area
Good tubing system
Sturdy design
Lots of accessories
Affordable
Cons
Not suitable for large-sized hamsters
Cleaning can be challenging